Server status:
AutoDJ status:

Bit rate:
Station time:
STREAM DETAILS
for Mobile & PC
JFSR MOBILE APP
v2.00 Build 3
THE BEST RADIO STATION WITHIN ITS GENRE

WINAMP
iTUNES
WIN MEDIA
REAL PLAYER
QUICKTIME




:: BTF 2018 IS A GO!!! - TICKETS ON SALE NOW! | FUNKIN' A | WESBITE & CHATROOM ARE NOW BACK ::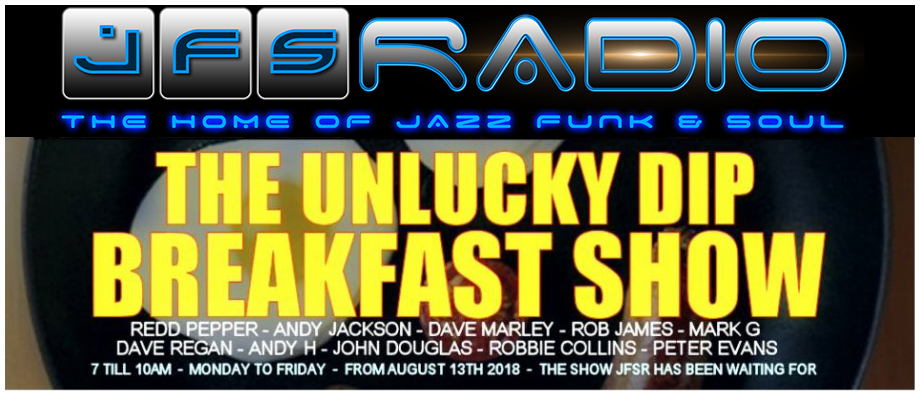 JFSR currently have over 39 Pro Presenters who know their music inside out, and are able to provide you with a music experience you would expect from a station that has been giving it's listeners the music they have been asking for 8 years. JFSR has some of the best quality DJs within the Jazz/Funk Soul Boogie Latin & House genres and we are a hard act to follow. Our DJs come from around the globe, USA, Germany, Netherlands, Australia and of course the UK. They also give up their own personal time to this non-profit making radio station. We hope you'll enjoy the tracks played, and see us as a got to, not pass through website.
Welcome to JFS Radio

Dave Marley
Pete Evans
Andy H
Djinn
DJ Ed
Nil & Onx
Slay'd5000
Miss D
Keith B
Trix
DJ Lucky
Andy Riley
Eric Rogers
Peter Hitch
Rainer (Mwave)
Birdy
Funky Soulsta
Tim Woodford
John Douglas
Mr C
Steve Daniels
DJ Gee
Koal B
Lawless
DJ Hughie
Pat Megginson
Warren Jay
Redd Pepper
Dean Nowers
Dave Regan
Rob James
Rod G
Robbie Collins
Mark G
Graham Cox
DJ Len
Mellow A
Andy Jackson
Soulful Sista
Adrian Bee
DJ DeJaVu
DJ Slim
JFSR - The only station that brings you Jazz, Funk, Soul 24/7/365

JOIN OUR NEWSLETTER FOR LATEST UPDATES AND EVENTS
© Copyright 2015 JFSR | UK Based | info@jfsr.co.uk

JFSR ESTABLISHED ON 2ND SEPTEMBER 2010
Site by Krell Freelance Technology